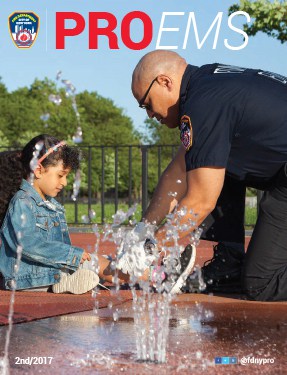 The 2nd/2017 issue of Pro EMS offers columns and feature articles that take up where we left off with the first issue of the year. It is chock-full of interesting and enlightening material, with a bonus special section by FDNY Press Secretary Frank Dwyer that provides photos and brief stories about those who were given a second chance at life and those who were responsible for saving them. The Second Chance celebration provides patients with the opportunity to reunite with their rescuers, all of whom are honored, in an often extremely emotional reunion. Sponsored by Matthew Pintchik and his family for 23 years, they have been recognizing FDNY members for their hard work and dedication. The family has firsthand experience with FDNY members' lifesaving expertise; in 1982, after suffering cardiac arrest, Jack Pintchik was revived by then-Paramedics Ken Honig and Carl Tramontana.
The numerous columns in this issue are sure to offer something for everyone. Choose from Call Review—Crush Syndrome and Confined Spaces, by Lieutenant Jordan Lucks and Rescue Paramedics Jose Benitez and Ari Nathanson; Step by Step—QuikClot Combat Gauze and OLAES Bandage, by Lieutenant Farooq H. Muhammad and EMT Amanda Czaza; and EMS Leader, Leading the Invisible, by Deputy Assistant Chief Lillian Bonsignore, Chief of EMS Training. Personally, I found Chief Bonsignore's article especially interesting because the tips provided can apply to anyone in any profession, not just first responders.
Harold J. Wagner, Director of 911 Participating Hospitals & EMS Performance Improvement, has compiled 2016 EMS statistics for this issue. A popular segment, it is always informative to note the number of responses of various units throughout the five boroughs.
Other articles of interest include MSOC (Medical Special Operations Conference) Milestones, Achievements and its Future. After sponsoring a fifth conference—with support from the FDNY Foundation–learn what the future holds for FDNY and other first responders in this particular area of EMS—search and rescue medicine. Numerous authors contributed to this piece: Dr. Douglas Isaacs, Chief of EMS James P. Booth, Deputy Chief Paul Miano, Captain Frederick Saporito, Rescue Medic Juan Henriquez and Trevor Glass.
A little off the beaten path, but no less interesting, is "EMS Behind Bars: Safety and Response Guidelines for the EMS Provider in the Correctional Setting," by Captain David Burke. This article is a follow-up to the Captain's article, "EMS Behind Bars: The Joint FDNY/DOC Rikers Island Initiative," which appeared in the 1st/2017 issue of PRO EMS.
Learn from and share the information that is packed into this issue.
About the Author
Janet Kimmerly is the Editor for numerous FDNY publications, including WNYF and Pro EMS magazines. She has served the Department since 1997. She holds an AA in Liberal Arts from Nassau Community College, a BBA in Business Journalism and has has done extensive graduate work in Marketing, both at Hofstra University.