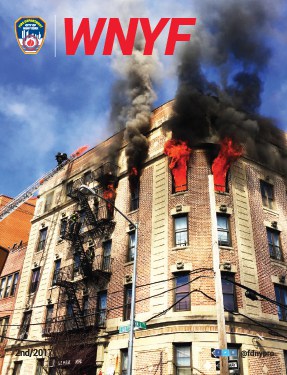 Hope you are enjoying the 2nd/2017 issue of WNYF.
I've been fortunate to keep my string going of introducing a brand-new author for each issue. This second issue for 2017 features three new writers: Battalion Chief Thomas Lapolla and Lieutenant John V. Kazan, who write about Machine Room-less Elevators (MRLs), which are proliferating throughout New York City. In fact, as the Chief and Lieutenant point out, there are more than 900 elevator units employing this kind of elevator design. The third new author is Captain Andrew Palmer, who provided WNYF with the 2016 FDNY Division Statistics–always a reader favorite.
As always, this issue boasts a broad array of articles and columns to pique your interests. Assistant Chief Joseph W. Pfeifer and Deputy Chief Thomas Currao explain why it is crucial for FDNY to have options at the ready in their article, "The Value of 'Plan B' at the Nomad Six-Alarm Fire." Air-supported structures are becoming more commonplace throughout New York City and Lieutenant Stephen Rhine details the dangers that FDNY members may encounter at such incidents. If history appeals to you, be sure to read "The 1977 Blackout, NYC's Darkest Night, Part I, by Assistant Chief Howard J. Hill (retired), with an interesting and personal sidebar, "A Famous Buff—Now Staff Chief—Rides Along During the Blackout of 1977," by Deputy Assistant Chief Michael F. Gala, Jr., Deputy Manhattan Borough Commander.
Among the other feature articles and columns that deserve a read include the problems tin sheets presented at a two-alarm fire in the Bronx, by Lieutenant Michael Ciampo; air-pressurized standpipes and alternate tactics, by Deputy Chief Fred Schaaf; and how and why the Safety Command conducts its investigations, by Battalion Chief Joseph McHugh.
Something I should have mentioned in my first blog: Photographs and artwork, from the very beginning, always have played a crucial role in the production of WNYF. This magazine's contents have been enhanced tremendously by their efforts. In my 20 years with FDNY, we've featured the work of some great photographers—Fred Bacchi; Battalion Chief Jack Calderone, Battalion 22 (retired); Matty Daly; Allen Epstein and his dad, Queens Dispatcher Joe Epstein (retired); Manhattan Dispatcher Herb Eysser (retired); Brooklyn Dispatcher Warren Fuchs (retired); FF Michael Gomez, Squad 288; Juan Gonzalez, Chief Fire Alarm Dispatcher; Marc A. Hermann; John Hopper; Olaf Huth; Honorary Chief of Department Jack Lerch; Todd Maisel, New York Daily News; Stephen "Butch" Moran; Vic Nicastro; Joe Pinto; Steve Spak (whose photos have graced more WNYF covers than anyone else); Bill Tompkins; Staten Island Dispatcher Steve White (retired); and Dennis Whittam. Some are able to continue to contribute on a regular basis, such as Manhattan Dispatcher Herb Eysser, whose photo appears on the cover of this issue; FF Michael Gomez; Honorary Chief of Department Jack Lerch; and Bill Tompkins.
Additionally, artwork is no less striking and this issue features that, too; a photo of an oil/linen portrait of FF Jeffrey Palazzo, Rescue 5, who was killed on 9/11, created by FF Mark Barrett, Marine 6. Another whose artwork has appeared in WNYF includes the talented FF Chris Callan, Engine 332.
There is an old saying, "a photo is worth a thousand words." These gentlemen prove the truth of that phrase. Of course, no less important are the contributions made by our Photo Unit (often historical and staged photos to accompany articles/columns), and fire photos from FDOC, under the leadership of Captain Ralph Talarico.
Thank you, all—both writers and photographers/artists. You are the ones who make WNYF the magazine that it is.
Enjoy the issue and, most importantly, learn from the information provided.
About the Author
Janet Kimmerly is the Editor for numerous FDNY publications, including WNYF and Pro EMS magazines. She has served the Department since 1997. She holds an AA in Liberal Arts from Nassau Community College, a BBA in Business Journalism and has has done extensive graduate work in Marketing, both at Hofstra University.