The last time you received a software upgrade notification on your smartphone or computer, you probably paused and considered whether you wanted to undergo the hassle. Your phone would be shut down for a few minutes and when it restarted, applications would be different and you might find yourself fumbling, possibly taking longer to use the phone than before you ran the update. Now imagine that you're adding software into the FDNY's Emergency Medical Dispatch (EMD) system that handles about 1.4 million emergency calls annually. The lives and well-being of the New York City citizens depend on how that software upgrade goes, as well as how fast dispatch operators are able to learn the new system to make sure response time doesn't increase.
Adding Computerized Triage Software (CTS) into Computer-Aided Dispatch (CAD) was a system upgrade the Department and its members did not take lightly. After years of research, procurement, testing and launching CTS in February 2017, the FDNY's EMS response time and accuracy have improved. This revolutionary software incorporated into the FDNY's emergency response will set the standard for the nation.
"Almost every time we looked at an EMS response, we said, we could improve triage even more,'" according to David Prezant, MD, Chief Medical Officer at the Office of Medical Affairs (OMA). "We pushed triage policy because it was critical and important."
The old triage system was a priority call system established in the 1980s. Assignment Receiving Dispatchers (ARDs), who are trained EMTs, were instructed regarding how to ask questions and follow a paper-based system (called Cardex) to determine on a relative rate of severity how critical each medical call was in order to dispatch the correct ambulance. The FDNY realized improvements could be made with response time, data tracking and dispatch training, as well as accuracy of dispatching the correct resources for the call type.
"To get any big project moving forward…you need a group of people to figure out how to get through some of the hurdles. I think that computerized triage is certainly an example of that. Several years ago, we went through all of these paper algorithms to re-discover, re-vet, update them all to say, 'All right, we're going to spend all of this money computerizing triage, but let's check that the algorithms are at least what we think they should be,'" explained Dr. Prezant. "So that was a huge project that took two years with OMA, EMS Operations and the Bureau of Communications collaborating. Members went through every question, every answer, every paper algorithm and they re-did them all. And then we looked for a computer software company that would be able to do this for us and link it as best as possible to the CAD system."
The project received the support of Commissioner Daniel A. Nigro and the mayor's office by late summer of 2015 before they vetted the software company. "That's where Deputy Commissioner Edward Dolan was very helpful," remembered Dr. Prezant. "He re-directed our efforts toward the software company [we went with] and that occurred within about a year," Dr. Prezant continued. "We knew computerized triage would be beneficial eventually because we could analyze questions and accuracy and make changes based on what we learned. But we were concerned that…this actually might wind up taking more rather than less time," Dr. Prezant said.
Luckily, the FDNY is careful, cautious and makes changes based on data and analysis, so it should be no surprise that CTS was a successful endeavor.
Finding the Best Vendor
The world of EMS Dispatch isn't very large. Commissioner Dolan and Dr. Prezant shopped around to find the software that would be the best fit for the FDNY system.
"When you look at the 911 system, it's unique; nobody understands it like the FDNY understands it," Commissioner Dolan commented. With his background managing call centers, he learned call-scripting software, which is essentially what you may have experienced when calling a bank or making a flight reservation. "Call centers are multimillion dollar global businesses. You don't necessarily need to know EMS to know how to write call-scripting software," remarked Commissioner Dolan. Realizing that this was the software EMD needed for computerized triage, he sought out those types of companies instead of ones with medical backgrounds. "We were the first and, to my knowledge, the only EMS system in the country that successfully bought a computerized triage software application from a company that doesn't build their application just for 911 use," he said. Commissioner Dolan knew it was important to make sure the company would be able to scale to the FDNY's volume of 1.4 million EMS incidents per year. "While that seems like a lot of call transactions, call centers typically do in excess of millions of calls a year," Commissioner Dolan continued.
The team decided on a U.K.-based company, Infinity CCS (Contact Centre Solutions), in April 2015, because it had a customer service model that better suited the Department's needs for call type algorithms. Infinity began working with Commissioner Dolan and his team to configure their software for the Department's needs. They finished in the fall of 2016 when the software was rolled out incrementally through testing phases at EMD from December through February 2017.
"When we were interviewing Infinity, we sent them some of our call types and the questions associated with them and they mocked up a call-scripting algorithm using our triage," Commissioner Dolan explained. During Infinity's presentation, they were able to show the team that they could change questions for a call type's algorithms on the fly.
"The system is entirely configurable. It's subject to whatever changes our physicians want, our dispatchers determine we need or external events determine. If we're concerned about Ebola and wanted to throw in the question, 'Have you traveled to West Africa in the past 21 days'?, we can do that now with administrative rights to the system," Commissioner Dolan said.
Defining Segments and Call Types
"Once EMD gets a call [passed over from the NYPD Police Communications Technicians], the ARD is responsible for triaging this in terms of both a segment and then a specific call type," Dr. Prezant explained. "Segment defines the life-threatening nature of the issue–the lower the segment number, the more life-threatening. Segment 1 is a cardiac arrest or choking victim. Segments 2 and 3 also are life-threatening. Segments 4-8 are non-life-threatening medical emergencies. Within each segment, there are multiple call types. Each call type dictates A, what type of medical emergency it is, and B, whether it should get an ALS (Advanced Life Support) response or a BLS (Basic Life Support) response. Once the segment and call type are defined, then the ambulance is dispatched," Dr. Prezant continued. Average response time of segments 1-3 in August 2017 was 6:26 minutes and 4-8 was 7:49 minutes.
How NYC's 911 System Works
NYPD Police Communications Technicians (PCTs) receive the initial 911 call in NYC. They then make the determination regarding what type of emergency is being reported and pass it along as appropriate. If it's medical, they conference in an EMD ARD to triage the assignment. "Once an appropriate call type is identified using our Computerized Triage System, the assignment is sent to the appropriate borough Radio Dispatcher (RD) to find the closest ambulance," explained Chief Napoli. "Our CAD system suggests the most appropriate unit response, but the RD must agree and release the assignment, then verbally announce it on the radio frequency to the responding units," he said.
Why CTS Was Needed
One of the many reasons that the FDNY wanted to move to computerized triage was due to the increase in volume over the years. "Currently, we are processing approximately 5,000 calls per day [during peak season] at the Emergency Medical Dispatch center," Deputy Assistant Chief Anthony Napoli said.
There are 450 EMD personnel assigned to the Communications. On a daily tour basis, EMD operates with approximately 75 members, which includes the Training Staff, since we are constantly updating and training, explained Chief Napoli.
"A larger group of call-takers puts a heavy burden on the training and the protocol update for the expansion we've done over the years. Given that and the type of questions that need to be asked, it was getting progressively harder to drill everyone on every question or every possible scenario. It's a logical progression to go to an electronic format where something can be changed or elements can be designed in a more efficient way," he continued.
Another factor for consideration was establishing greater uniformity among ARDs' responses. "One desire was to enhance participation and ensure that we're asking the same questions for every call regardless of who's staffing the telephone that shift," said Commissioner Dolan. The Department wanted uniformity among all ARD call-takers.
"We've always looked for a better way of doing triage and we knew that route was to go electronic. But the next problem we had to deal with was using a computer system that was so immense and heavily relied on," said Chief Napoli. EMD didn't have an option to go offline to update CAD with this CTS. Thousands of lives were at stake.
EMD Azure McPherson has been working in EMD for six years and said she likes the CTS system better than Cardex. "The CTS is easier than the Cardex because you had to turn away from the computer and flip through the Cardex to make sure you asked the right questions to get the call types. Now, with CTS, it's like Cardex is built into it. You scroll down to what the [situation is] and from there, you question the caller. You don't have to turn away from the screen," EMD McPherson emphasized. There's a drop-down menu in front of the call-taker and, based on what you select as an answer, the next question is prompted, explained EMD McPherson. "The computer makes the decision and it [forces you] to ask all of the questions. Whereas with the Cardex, you may have missed a question or two. With the new system, you can't click 'next' until you ask the question, which is better for the callers and us. It just makes everything easier because you're asking all of the correct questions to get the correct call type," said EMD McPherson.
"Now that these algorithms and branch questionnaires are all computerized, it gives us the opportunity to say, 'This is the way everyone is going to do it,'" said Dr. Prezant. "We're monitoring it and if processing call types is taking longer than is necessary, we're going to make changes. We're able to monitor every aspect and, in fact, we learned something we never knew before–that every question adds seven seconds, on average, to the time interaction," noted Dr. Prezant.
The Technology
"Automation is the way to go in terms of improving the quality of service and to do more with existing resources," said Chief Information Officer and Commissioner Benny Thottam. "There's always an opportunity to automate new processes and the Fire Department took on the challenge and was successful. This has improved the response time already and I think it will improve the response time tremendously while assigning the best resources depending on the nature of the incident."
The IT Department is responsible for enabling technology, continued Commissioner Thottam. That involves doing the pilot, working with the vendor to ensure service and the teams to provide guidance so that they can use the software, he said.
One advantage the FDNY had on this project is that the computer triage software had to interface with its CAD system. The Department's CAD vendor, Northrop Grumman Corporation, was able to build upon its institutional knowledge and leverage its expertise to ensure success.
Translating Data Captured and Applying It
The technology is critical to this triage project, but the FDNY also understood the role research and data analysis played in creating a successful computerized triage software operation. Assistant Commissioner Kat Thomson leads the Bureau of Management Analysis and Planning (MAP) and said their branch complements technology in areas where it's appropriate. "We take data that are warehoused by the agency and collected through applications and then we use that data. We're the end users of data that technology is responsible for procuring and protecting," she explained.
MAP got involved in the triage project in October of 2016. "Once technology said, 'We're going to do a cutover,' that meant we were going to adopt this technology. We want to know that this technology isn't going to create any adverse effects. In the past, technology would have run automated reports, which could show hourly, daily and weekly response times for a particular borough," Commissioner Thomson continued. "They're good at packaging data and making sure the systems are protecting data, encrypting data; but they're not analysts with data, not in the way that our shop is. Our MAP department grew and now we have much better ability to analyze data," she noted.
The Department recently procured Tableau, a data visualization tool. "Tableau allows us to plug in to different application data sets. The [challenge] with computerized triage was that we're rolling out this piece of technology that captures data, particularly how we're typing calls," Commissioner Thomson commented. "Dispatch is gathering that information. But other applications also are running simultaneously that capture their own data and they tell a story that is really important to this incorporation of computerized triage. Tableau gave us the ability to pull data from all the sources that we need. We never had that ability before," she added.
CAD data now were pulled in by the MAP unit, combined with computerized triage data and eventually Electronic Patient Care Record (EPCR) data, continued Commissioner Thomson. "Now we could show data visualization in one comprehensive analysis. We could examine, 'If we're changing something over here, what's the effect over there'? And we couldn't do that before," she said.
"To me, MAP was the best thing since sliced bread because I'm able to trove the efficiency of the ARDs' dispatches based on the data that are being generated," commented Chief Napoli. "[We were able to show] that some call type questions don't work and we can save time by getting rid of a question since it only added to the response time. You want to do something that's tried and true and analyzed and developed throughout this entire process."
Using Data to Improve Call Response Times
The questions and the speed and accuracy of the questions are a subject overseen by the Medical Director, so they had to meet clinical requirements, said Commissioner Dolan. "The software had to meet the technical network, firewall, security, speed and reliability requirements of our technology group and then it had to be able to be plugged into MAP," he said.
"The goal of computerizing triage is to do a better job of typing patients on the phone so there will be improvements in accuracy and speed of the response," explained Commissioner Thomson. With this new triage, the software is taking the answers to the questions call-takers ask and compiling the data. "That results in complex, multi-dimensional, structured data. While the ARD call-taker is asking questions about age and yes and no questions, the system is running and the data are captured. Then, that data are feeding into Tableau. Simultaneously, we're moving ambulances with CAD and there are time stamps associated with moves," she said.
"For example, we can see that we're dispatching this ALS unit from this location at this time point and it creates a record in a different application. We take that data and marry it with the data from triage. Then MAP will sit down with Communications and OMA. Dr. Prezant can look at the data and tinker with the questions to determine the best order, while Chief Napoli and his EMD department make sure those questions don't cause response times to increase. We take a look at all the data we're acquiring, put it on one page and address it at a conference together, where we can zero in on all of the details during the rollover. We're examining everything at the most granular level, which also is new for the agency and very important," Commissioner Thomson added.
"Using the new computerized triage questioning data, we're able to identify the most common pathways that people were taking to arrive at a certain [conclusion]," she continued. "We identified some questions that were creating inefficiencies. We were asking questions that…weren't critical. Looking at the information, we were able to say, 'Let's ask a more important question first, so we can speed up our ability to triage, make a determination of the type of patient we have, so we can send the correct resources," Commissioner Thomson explained. "I call it 'trimming the fat.' You're cinching up all these little inefficiencies that are out there. It's a huge, complex, organic problem you're trying to solve," she said.
"For all of our calls, processing time went down by 6.7 seconds after CTS was up and running," said Commissioner Dolan. "We also found that processing times for our high priority calls–those that are potentially life-threatening–went down by 3.6 seconds," he enthused.
Training on the Software
"My dispatch team went through extensive training back and forth to make sure this was going to work," said Chief Napoli. "I told the training classes that they were simply being guided by the analysis that we developed. I'm not turning them into robots, but they have to ask the prompted questions and use the drag and drop features to arrive at an appropriate call type. While asking more questions does give the dispatcher more knowledge about the situation, it doesn't help with the response of the ambulance," he explained.
"It was very important to have a test system in place, where we could test something without shutting down the 911 system," said Dr. Prezant. "So the old version was still live, but the new version was in a test area and we would test that for a week or two and make sure that we hadn't created any problems by accident. Then we would move it over to the live platform."
"In the beginning we did testing, then when we were taking live calls, some [members] were kept in a different room, trying out the new system," said EMD McPherson. "The people who were in charge of CTS were right there in the room to help us along if something wasn't working the way we expected. We would tell them, 'The system isn't asking this or it should be asking that,'" EMD McPherson continued. The supervisors were there to provide extra help during that time CTS went live and was being tested by a small group of dispatch members.
With this unique software, EMD was able to analyze, "Which people are struggling with the new software"? or "What times of day are we the slowest"?, said Commissioner Thomson. "We also could answer the question, 'How much training does each call-taker need before we can turn them loose on the new software'? The data showed that the first five times call-takers used computerized triage, they usually were very slow." By approximately 50 calls, they were back to normal speed, answering the phone efficiently and [identifying the call type] at the same speed they did while using the Cardex system, remarked Commissioner Thomson.
"Previously, these data would have been a big question mark. We would have rolled this out and then we would have looked a month later at response times and realized, 'Well, it looks like there's a 30-second increase.' Now, we can say, "No. For ARD A, in terminal B, at time C and it was call type E, you had a certain second increase." We could get right to core of the problem every single time," commented Commissioner Thomson.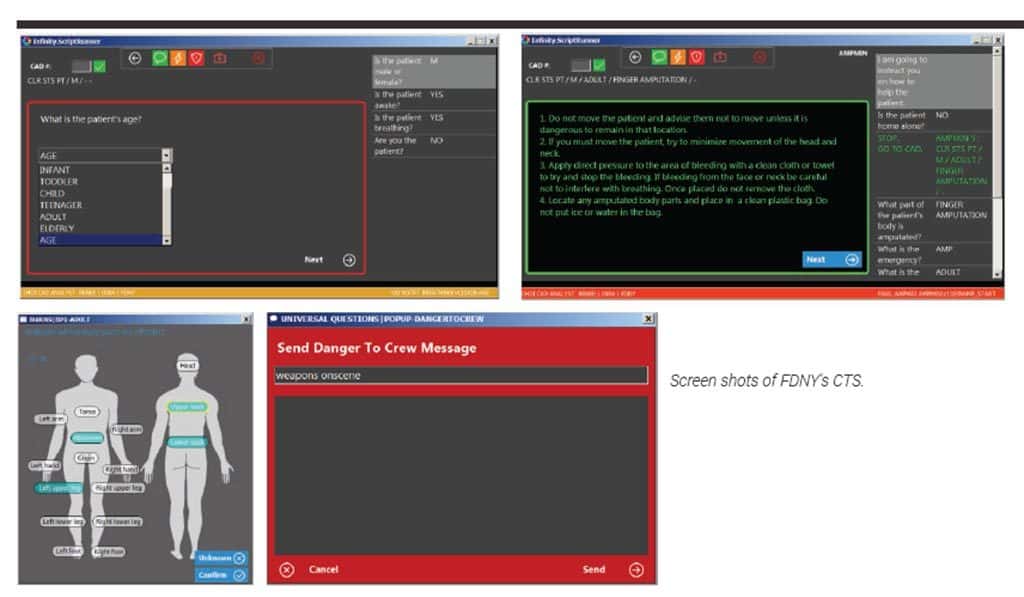 "Overall, my experience with CTS has been very good. People tend to be against change," said EMD McPherson. "When you're used to doing things a certain way for a long time, it takes some getting used to in order to click one thing and then it jumps to the next screen. In the beginning, people were a bit frustrated, but now everyone went through it and everyone knows how to do his/her job.
"With CTS, you're making sure you do everything correctly. In the beginning, we gave our feedback on certain first aid protocol and what certain call types should be. They made some fixes based on feedback we had. To me, CTS is faster," EMD McPherson continued.
Changing Algorithms in Real Time
"Right now, if there was [an outbreak] taking place in the City of New York where we had to ask specific questions related to the operation, we potentially can make that change on the fly and add another set of questions right into the algorithm," Chief Napoli explained. "For example, if we had a smallpox virus outbreak in lower Manhattan, we could interject a question this afternoon that asks if the patient has been south of 23rd Street in Manhattan recently. And we can begin isolating specific questions to help determine if the patient may have smallpox," he said. That flexibility and speed enhanced by this technology are useful for personnel at EMD, the EMS members responding to the call and the patients. "Ten years ago, if we had something like that taking place, I would have put up a big sign in the call receiving area–also called Assigned Seating Dispatching–that said the same thing about asking those questions of anyone who was south of 23rd Street in Manhattan in the past 24 hours," Chief Napoli stated.
"The biggest part of this triage software is the fact that we have to be able to change the questioning to go with the 'crisis du jour,' if you look at it that way," continued Chief Napoli. "Because there are things happening in this world that none of us would have dreamt about 10 years ago or even believed then, we have to be able to adapt and mold ourselves accordingly with what's happening," he said.
"The managerial analysis part of it was designed by us, it's run by us and it's molded by us," Chief Napoli continued. "I've changed the reports numerous times with them because what was important to us last month is not necessarily important to us this month. If I need an analysis on something specific now, I know I can pick up the phone and within a day or two, our analysts can come back to me and give me that data."
Improving Call Types and Segments
"The main question we're answering is, 'What's the impact of this new system overall on response times'? But then MAP breaks that down even further," said Commissioner Thomson. "We examined, 'What's the impact of this cutover on our most critical call types'? because we care about those the most. We were able to isolate cardiac arrest calls, a difficulty breathing or other life-threatening call types that we don't want to have an adverse impact on. And then, we looked at them using Tableau to find the outliers where calls were slowing down," she added. "We could see where phone calls or triage outputs were making things slower by examining the time elements. And you can pull those out, quickly slice and dice, look at them, see what the problem is and publish it with them in a way that has never been possible before. So we would take on call type, response time issues and then we could diagnose and improve times," she continued.
"These segments and call types are the most important items," emphasized Dr. Prezant. "They're in our power to change, we have that power to know through accurate analytic information what we need to do to improve our system. And the system needs to improve in a dynamic way. And if we achieve that—and we already have demonstrated that we are achieving that—then…the people benefit. We get there faster and we get there faster with the right resource," stated Dr. Prezant.
The Hardware
"This was a product that already was built and we installed it in our environment, so we didn't need a lot of equipment and hardware," said Commissioner Thottam. There was a one-time cost for initial setup, configuration and integration with the EMS CAD system. The main expense for the triage software was licensing. Additional equipment needed were Windows servers and some networking equipment, he noted.
The FDNY Always Has a Backup
"We have backup systems so if something does happen to the [triage software] we'd go to a backup system so it's redundant," said Commissioner Thottam. "The EMS CAD system is configured in such a way that if CTS goes down, it won't impact the CAD system and the ARDs would go back to the Cardex. We have redundancy in place for the computerized triage system, but no system is bulletproof."
"Even if for some reason technology goes down, our ARDs are still prepared to answer calls using simplistic questions on paper as a backup," explained Chief Napoli. "I rely on the training for the ARDs to be able to efficiently know what to ask and what not to ask to make sure the call types are processed correctly [should the triage software go down]."
What Other Departments Should Consider Before Taking on this Endeavor
Make sure you receive good support from your vendor, recommended Commissioner Thottam. "We went with a vendor (solution) that could configure the tool the way we wanted. It's critical to test and pilot before implementation because this is a critical operation. When algorithms are not perfected, it can have an adverse effect [on the patient]."
Other Departments should make sure that the tool they're considering fits in their environment, continued Commissioner Thottam. "You don't want to put new technology in an environment that doesn't support it. Otherwise, it'll be more expensive to maintain and support."
For other call-takers who might take this system on, EMD McPherson suggested they be open to learning computerized triage. "Once they see how it works and how fast they can drop a call, I think they'll like it. You don't have to flip from the screen to the Cardex to see the call type and then look back at the screen. Everything is on the screen. Even during first aid, you're able to click what you think it is and type in everything. I've done CPR over the phone since this launched and think CTS is easier for that. Once you click, you read everything for first aid and the call right there. You also can see how far away the unit is or if it pulled up yet. You're not twisting and turning from the screen to look at the Cardex. The prompts are all in one place," EMD McPherson summarized.
The FDNY's EMD is One of a Kind
"We have the only triage system in the country that the end user can configure at will," noted Commissioner Dolan. "Because we have a full-time management analysis and planning team and we have invested in statistical software packages that can help us display data from across multiple data sources, in a very easy-to-see dashboard that you can put on your computer monitor or send around in real time, you can even make the information accessible to people and email it to them as a PDF.
"Computerized triage software is better for everyone on an operational basis because it gives us a higher reliability that we've captured the severity of the call accurately to the extent that this is possible since 1.4 million New Yorkers call us for help every year…and there's a limit to how accurately we can get a call classified," continued Commissioner Dolan. "We found with computerized triage that the percentage of calls that start off as a lower priority call and later get upgraded to a higher priority due to the patient's deterioration went down by another percentage point. That's one way of showing that we're capturing calls more accurately and we're better able to fine-tune what type of emergency we're responding to, so it's better for everyone, both in the dispatch center and the units responding to incidents," he emphasized.
"This software is efficient and fast and allows our efficiency and accuracy to go hand in hand," said Chief Napoli. "I already have seen that this product is saving lives. I am working with the most highly trained professionals in the world in Emergency Medical Dispatch. This software has made it easier so that our ARDs don't have to remember what the next step is, what they have to do and where they need to go," he said.
"From a management perspective, I think one of the biggest reasons for the success of this project was that we involved all the different disciplines, both within the Fire Department and when we reached out to the private sector, we didn't limit ourselves to just the available vendors who seemed to be the obvious choices," said Commissioner Dolan. "We took a step back and evaluated what we really needed. To the extent that you can use existing software products in an innovative way, that sometimes might be better rather than trying to reinvent the wheel and buy something that's just built for 911."
"The major achievement in the 911 system this year has been the success of computerized triage," noted Dr. Prezant. "We've implemented a whole new system that takes care of 1.4 million calls per year and we've implemented it without a hitch. We're already seeing success. I think it's a huge accomplishment. And it also builds confidence to tackle the next project. When you build an effective team and you have success, that builds confidence for the next project. And it just keeps feeding on itself. So people have to trust us, that if we have something new that we're going to do, that we're going to implement it with this measured, reasonable approach," Dr. Prezant concluded.
About the Author
Edward M. Dolan is the Deputy Commissioner for Strategic Initiatives and Policy. He previously served at the FDNY as the Deputy Commissioner for Administration from 1994-1998, leading the development of CFR-D and the EMS merger, after working with the Department from 1987-1990 as a senior analyst in Mayor Koch's office. He also has worked as a vice president at the Lockheed Martin Corporation and for the federal government, where he spent seven years with the U.S. Department of Homeland Security and nearly three years on the National Security Council staff at the White House. He holds a Master's degree in Public Policy from the Kennedy School of Government at Harvard University.
Dr. David Prezant is the Chief Medical Officer for the FDNY, Office of Medical Affairs, and the Special Advisor to the Fire Commissioner for Health Policy. He is Co-Director of FDNY's World Trade Center Medical Program. Dr. Prezant was in charge of coordinating FDNY's overall preparedness and response to patients with potential Ebola Virus Disease.
Kat Thomson joined FDNY in 2015 as Assistant Commissioner, Management Analysis and Planning. Previously, she worked as an analytic consultant for various fire associations in the NY Metro area. She has 17 years of experience in wildland fire operations with nine as an air attack officer, specializing in fire aviation. Assistant Commissioner Thomson holds two Master's degrees and a PhD from Columbia University.
Benny Thottam joined FDNY in 2015 and is responsible for overall management of the agency's technology initiatives. He guides the Bureau of Technology Development & Systems as it pursues its mission to harness technology to improve service to customers. He evaluates and determines the agency's long-term technology goals, policies and procedures and works to keep IT investments in sync with NYC's technology strategy. He also oversees the development, design and implementation of new applications, as well as enhancements to existing ones. He came to FDNY after a 20-year career with the NY State Government, where he worked as the Chief Information Officer of the Education Department and the Labor Department.
Deputy Assistant Chief Anthony V. Napoli, Jr., has been a member of the New York City Fire Department since 1977. He is assigned to the Bureau of Communications, Emergency Medical Dispatch, as the Chief of EMS Communications. Chief Napoli has been a New York State-certified Emergency Medical Technician since 1976, when he began his career with his local community-based volunteer ambulance corps, of which he is still an active member for more than 40 years. He joined the ranks of the New York City Emergency Medical Service in 1988 and was assigned to the Bureau of Communications. He holds a Bachelor's degree in Urban Studies.
Azure McPherson became a certified EMT in 2009 through training at the EMS Academy in Fort Totten. From there, she worked in Brooklyn at Station 32 and Station 35 before transferring to EMD in Brooklyn, where she is a certified EMD Assignment Receiving Dispatcher (ARD).