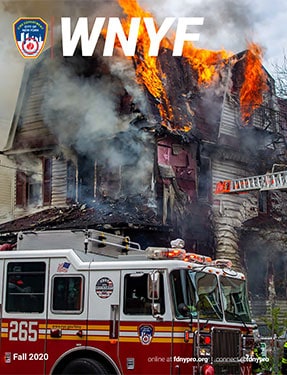 Features
Sectoring and Communications Crucial at the Trump Tower Four-Alarm Fire
By Deputy Chief Joseph N. Carlsen, Division 3 Commander, and Battalion Chief John Corcoran
The Fordham University Bell/Clock Tower Rescue/Removal
By Deputy Chief John A. (Jay) Jonas, Division 7 Commander
Queens Junkyard Fire Requires Foam Operation
By Deputy Chief George K. Healy
FDNY Urban Fire Dynamics Summit
By Deputy Assistant Chief Frank Leeb, Chief of the Fire Academy, and Daniel Madrzykowski, PhD, P.E.
Stubborn Brooklyn Third Alarm: Overview and Lessons Learned/Reinforced from Box 33-2876
By Deputy Chief David Maj
The Kutta Radio
By Battalion Chief Andrew P. Lindow
Foam Operation at August 6, 2019, Queens Junkyard Fire
By Captain Mark Becker
FDNY and the Hong Kong Fire Services Collaborate to Establish Search and Rescue Group Strategies for High-Rise Building Fires in Hong Kong
By Battalion Chief Stephen Marsar and Dr. Shane Lo Siu-Hang, Chief Fire Officer, Hong Kong Fire Services Department
Cockloft Nozzle Proves to be a Turning Point at Bronx Three-Alarm Fire
By Deputy Chief John A. (Jay) Jonas, Division 7 Commander
Manhattan Third Alarm: Good Communications and Coordination Required at Every Level
By Deputy Chief John Sarrocco and Battalion Chief Stephen Marsar
The Membrane Roof
By Lieutenant Steven Schuman
Recognizing Renovated Tenement Buildings
By Battalion Chief Daniel P. Sheridan
Two-Alarm Transit Incident Efficiently Mitigated
By Deputy Assistant Chief Fred Schaaf, Queens Borough Commander
Rebreather Rescue Task Force (RTF): The Rise of the Intelligent Operation
By Lieutenant Robert J. Brown
A 25-Year Retrospective on the Freddy's Fashion Mart Fire: The Continued Relevancy of Attacks Combining Fire and Firearms
By Battalion Chief Sean Newman
Columns
SAFETY FIRST
FDNY Bunker Gear
By Deputy Assistant Chief Michael V. Meyers, Chief of Safety, and Lieutenant Matthew Quinn
FIRE PREVENTION MATTERS
Bureau of Fire Prevention Response to the Coronavirus (Covid-19) Outbreak
By Assistant Chief Joseph M. Jardin, Chief of Fire Prevention
LEARN FROM HISTORY
The Holland Tunnel Fire
By Deputy Chief John A. (Jay) Jonas, Division 7 Commander
TRICKS OF THE TRADE
Level Your Ladder
By Captain Michael Doda
CTDP BRIEFING
Continuity of Operations–Beyond the Plan
By Assistant Chief Thomas J. Currao, Chief of Counterterrorism & Emergency Preparedness
BACK TO BASICS
Communication and Planning Before Reaching the Fireground: Unit Cohesion
By Captain Steven Aviles
Spotlights
Senior Firefighters
By Deputy Chief Eugene Ditaranto, Jr.
You're Off Probation. Now What?
By Captain Steven Aviles
Stress: The Firefighter's Constant Companion
By Captain Michael J. Lyons, retired
The Bloom Energy Server
By Firefighter James Sabol
Door Removal
By Captain Michael Doda
Departments
PHOTO REPORTER
2020 MEDAL DAY RECIPIENTS
FDNY STAFF CHIEFS
ALL HANDS
TAKING UP
PUBLISHER'S NOTE
MY FAREWELL MESSAGE
IN MEMORIAM