The FDNY Mariners don't meet on the apparatus floor to carry out routine checks at the start of each tour. Yes, Marine Firefighters, similar to their land-based counterparts, ready their personal protective equipment (PPE), check self-contained breathing apparatus (SCBA), haz-mat meters, power tools, medical equipment and the like. Pilots test their fireboat's lights, marine radios, radar and other navigational tools. Marine Engineers and Wipers check fluid levels, purify fuel, clean sea water strainers, cycle fire main valves and conduct an endless routine of equipment maintenance, both in the machinery spaces and out on deck.
However, dedicated FDNY Mariners don't conduct these checks each tour on the apparatus floor.  Marine unit rigs are stored outside on the forever shifting water and in the corrosive salt air. Year round, through the blistering heat of summer and the stinging winter cold, through wind and rain, ice and snow, our Mariners keep the fireboats in a condition ready to perform and protect more than 600 square miles of response area.
Anyone who has ever owned a boat knows the amount of time and energy (and money) spent on maintaining it. As the old saying goes, The happiest days in a boat owner's life are the day he buys it and the day he sells it. A lot of work goes into getting the boat safely to and from every response. In addition to the uniformed ranks, the Marine Repair Shops, a group of talented and hard-working civilian employees, works year round to keep the fleet floating; a fleet that since 9/11, has grown largely due to federal support. Prior to that time, the job had three permanent Marine units–M-1, M-6 and M-9. Each unit responded on aged apparatus from 10 to nearly 70 years old.
Now the fleet has grown much larger and become much more modern than the 1930s' technology. The three Marine units–M-1, the 140-foot Three Forty Three; M-9, the 140-foot Fire Fighter II; and M-6, the 65-foot Bravest–respond on new, cutting-edge vessels for large-scale incidents. Each unit also has at its disposal a second and third piece. Secondary apparatus consist of a 33-foot, fast response boat, capable of quick responses to water rescues and able to provide 1000-gpm firefighting water to shallow draft areas where the larger boats are unable to operate. The third option available is a 31-foot, New York State-certified ambulance boat for mass casualty incidents.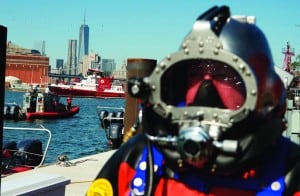 FDNY's Mariners keep the fireboats ready to respond and protect the City's 600 square miles of response area.
The fleet also has grown by adding new Rapid Response Craft (RRC) Program fireboats for M-3, M-4 and M-8. These RRC boats operate seasonally from May to November each year and each asset must be maintained in ready condition. In addition to the Marine unit members and  Marine Shops mechanics caring for the apparatus, there is another group of specially trained members who help to preserve the Department's resources–the Marine Maintenance Diver (MMD) Program, composed of Marine Battalion members.
Members of various Marine ranks have received specialized skills through the SCUBA Training Unit of the Special Operations Command (SOC) Technical Rescue School. Over time, these members receive up to four weeks of a thorough and challenging training curriculum. For the first two weeks of Basic and Advanced SCUBA, Marine members train alongside other SOC members from the Rescue Diver Program. Here they become proficient in their diving skills, including operating in zero visibility, in powerful currents and inside confined spaces, such as beneath ice and other overhead environments.
Next, they enter the first segment of the Municipal Rescue Diver (MRD) course, in which they receive full-face mask training and become familiar with all of the equipment, such as the hard-wired communications tether and the emergency Diver Fast-Pak, used by MRD divers. For the final phase, they learn Department search patterns–not for rescue, but for tools and equipment searches. But instead of learning inflatable rescue craft operations and under-pier firefighting as do the MRD divers, the MMD divers focus on operating inverted, with hand tools, beneath the floating 40- to 500-ton fireboats.
After their certifications are achieved, Marine Divers continue to practice their skills at quarterly refresher training with the Rescue Company MRD Divers. All divers use the same standardized SCUBA equipment and practice their diver emergency skills, search techniques and tender skills common to both FDNY disciplines.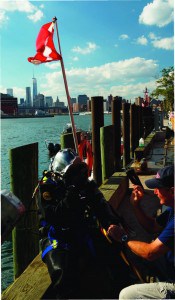 A Marine Maintenance Diver in new hard hat equipment, preparing for an inspection dive. Giving the okay sign is Dan Crowell.
In the field, trained MMD members perform routine maintenance and inspection duties on all classes of fireboats, such as hull inspections; checking the sub-surface hull for routine wear of protective paint and anodes. They also have a schedule of removing from sea chest grates debris and biological growth that restrict the sea water intake from propulsion motors, generators and fire pumps. These are the kinds of restrictions that would place a vessel out of service.
In addition to routine maintenance, there are other unforeseeable dangers that often attack the fireboat from below. The errant tarp, rope or heavy timbers that wander hidden beneath the surface of the City's waterways can do serious damage to a vessel and its propulsion.
Prior to the use of Maintenance Divers from the Marine Battalion, the job frequently relied upon the use of in-service Rescue units to travel, often to remote locations to assist the damaged fireboats and put them back in service. However, this deprived the borough of highly trained members who specialize in Firefighter rescue.  Marine Divers now are capable of being self-sufficient and thereby keep the Rescue units in service and available for response. In the past, other solutions to an out-of-service fireboat might have been to hire a dive crew from outside the job or to pay emergency dry dock fees. All of the above remedies would come at considerable cost to the Department, financially and/or operationally.
An important advantage of having Marine members pair up with other SOC divers during the continual refreshers is that the Command has developed over time a valuable team of support for rescue dive operations. The MMD Program provides additional members trained in Department search techniques and equipment at the scene of most emergency dive operations. Since the development of the MMD Program, Marine divers have assisted at actual dive emergencies and under-pier fires because of their knowledge in dive tender operations.
During the past several years, the MMD Program has saved the Department hundreds of thousands of dollars in shipyard and investigative fees. Marine divers helped to ensure the timely acceptance of the City's first new fireboat in 20 years, the $27 million Three Forty Three. When a malfunctioning 24-inch fire pump suction valve failed to close, Marine divers removed the coffin-sized sea chest grate bolted to the hull and entered the fire pump suction piping with an underwater camera to determine the cause of the problem. The inspection helped determine the cause of the malfunction and the boat was accepted on schedule.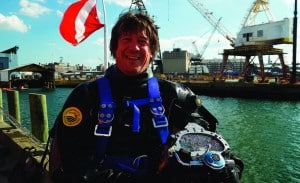 Pilot William Hannan is a recently retired FDNY veteran with 27 years of service to the Department. Pilot Hannan was an experienced, highly valued SOC/SCUBA Dive Instructor and the single most influential member in the Marine Diver Program.
On another occasion, the electrical generator on the fireboat, Bravest, Marine Operations' most active fireboat, had overheated due to unknown causes. Once repairs were made, additional out-of-service time was necessary in order to troubleshoot the confounding problem. As a last-ditch effort, a maintenance diver entered beneath the vessel and saw no obstruction to the cooling water inlet through the hull. However, air bubbles exhaled from the diver's mask forced a glass test tube to appear from the piping. The tube miraculously had found its way into the slightly larger opening of the sea water supply and was restricting cooling water flow. This ruled out all other possible causes and returned the boat to duty without unnecessary delay.
FDNY MMDs also have provided assistance to the U.S. Coast Guard (USCG) in the Port of New York and New Jersey in the aftermath of Hurricane Sandy by recovering submerged equipment in contaminated water at Coast Guard Station New York and by removing storm debris that fouled engine intakes on the 87-foot USCG Cutter, Tigershark. Recently, Marine 6 conducted an investigation for the Coast Guard of a submerged vessel blocking a canal in Brooklyn. This dive survey helped to facilitate the removal of the sunken vessel and free up the waterway.
During operations on January 31, 2015, at a Brooklyn seven-alarm fire on Kent Avenue, each of the three fireboats supplied master streams on the fire and were plagued with debris found in the run-off from the building. MMD members removed debris that clogged intakes and fouled the bow thruster impellers on both of the 140-foot fireboats, thereby reducing out-of-service time and saving considerable cost to the Department.
In addition to SCUBA, the MMD Program has acquired new Surface Supplied Air Equipment and certification. Marine members recently qualified in Emergency Response Diving International's (ERDI) Surface Supply Air Helmet Diver Training. This was an additional one-week course taught at Marine Operations in the Brooklyn Navy Yard by Dan Crowell of Military Channel's Quest for Sunken Warships and the creator of the diver program.
Members were certified in the use of the equipment necessary to conduct surface-supplied air dives with the use of a 32-lb., stainless steel hard hat. The use of this new equipment improves both the safety and efficiency of divers working beneath large, heaving vessels in contaminated waters. A compressor provides larger quantities of air than a SCUBA cylinder, thereby allowing the diver to work harder for longer periods of time. Multiple redundant air sources provide divers with an increased level of safety.
By industry standards, FDNY fireboats are required to be periodically hauled from the water to be inspected for seaworthiness.  However, dry dock facilities for hauling these big boats are limited in our region. The Department established a contract with a shipyard able to accommodate our big boats but, unfortunately, it is located some distance away in Connecticut.
In an effort to decrease out-of-service time, Marine Ops is investigating the possibility of obtaining for Marine Maintenance Divers the necessary certification to conduct in-water inspections of our vessels while they remain in service at their respective docks.  In-water inspections are permitted by regulations governing the industry and performing them on our own fleet may save the Department the expense of unnecessary dry docking and reduce the downtime of these important apparatus.
Marine Ops has grown tremendously in recent years. Today, with all of its assets, Marine Operations still is not as large as it was back in its hay-day of wooden piers. Back then, it was a Division of nine permanent units. Now, Marine Ops is a Battalion in Special Operations, made up of dedicated, talented members with specialized maritime skills to professionally operate the fireboats. Maintaining these vital assets and keeping them response-ready for many years to come will be a never-ending challenge. The members of Marine Ops–including the Marine Maintenance Diver Team–are ready for the challenge.
About the Author…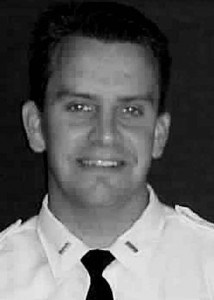 Lieutenant Timothy M. Maloney is a 20-year veteran of the FDNY. He is assigned to Marine 6. Prior assignments include Ladder 134 as a Firefighter and the Marine Battalion as a Marine Engineer. He was the Officer in Charge at SOC/SCUBA Support and Dive Instructor. He is an FDNY Shipboard Firefighting Instructor and was a member of the Marine 6 Fireboat Replacement Committee. He holds a bachelor of engineering degree from SUNY Maritime College, with a USCG 3rd Assistant Engineer's license. This is his  second article for WNYF.